BDSM Basics: Top 10 Toys for Beginners
If you have never experienced BDSM play or even kinky play before and are just dipping your toes into the water, these 10 toys would make a great introductory kit for you with endless play options suitable for the most novice player! So what should you put in your toy bag?!
Incredibly versatile, taking away your submissive's sight heightens every other sense for them! Their anticipation will grow in an instant and sensations will feel completely different.
Various options include satin sleep masks, satin ties, synthetic leather blindfolds and leather blindfolds.
So many options here! For beginners who haven't yet ventured into the realms of rope, why not try some bondage tape. We would also suggest cuffs/restraints with velcro fastenings for the absolute beginner because they are easy to get off in a hurry if you need to.


Those starting out in kink may want to start gently and not into the heavy intense impact play scenes. Sensory scenes are a great way to do that. Wartenberg wheels or spiky pinwheels can be rolled at whatever pressure you desire all over the body for incredible sensations.
There are such a wide range of nipple clamps from butterfly clamps to clover clamps to tweezer clamps to your regular household pegs. We would suggest the gentler tweezer clamps to begin with. And don't forget to check in with your submissive if it is your first time playing together and make sure whatever you are doing is within their limits. Nipples can be very sensitive!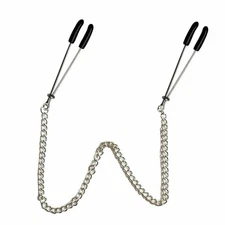 Taking away your submissive's ability to speak gives them a feeling of helplessness that so many desire! There are so many options, from O-ring gags to spider gags to ratchet gags to ball gags. If you are after a closed mouth type gag (if you don't need their mouth open for another purpose!), we would suggest a small-sized breathable ball gag made of silicone as it is much easier on the jaw than any metal or plastic gags so a great option for beginners.
Having a magic wand vibrator is almost an essential if you are wanting to delve into the orgasmic depths of forced orgasms or orgasm control. Butt plugs are also a great introduction to anal play, especially if you can find a small-shaped rounded tip butt plug.
THE MOST ESSENTIAL impact toy to have in our opinion! Try tapping ever so lightly on your submissive's skin anywhere on their body to give them the most amazing sensual light impact play experience, and you can then increase your strength for the most amazing impact play experience! The crop is incredibly versatile in the ways and places you can use it and we just love it in our dungeon.

Floggers are great because depending on the type you choose, they can be stingy or thuddy. (See our article on Flogging 101 for how to choose one and how to actually use one). Not only can they be used for impact play, but they feel incredible softly draped over skin and can almost tickle. We would suggest choosing a gentle thud flogger for beginners. Don't forget to learn how to use it before you go all out full strength on someone!

We love having a variety of paddles made of all different materials and weights so that each one produces a different feeling. Research and practice how to use it and then have fun experimenting!

Canes used as impact toys are probably more of an intermediate toy but you have to start somewhere! You can buy rattan, acrylic or wood canes and they are brilliant for leaving red stripes and the marks your submissive desires so much!
------------------------------------------------------------------------------
This is such a small list of all the types of products available for people in the BDSM lifestyle, but it would make a great little starter kit for those wanting to join the scene. It does not even venture into all the different play styles and scene ideas, but just out of these 10 items, you could do infinite things. As you go deeper into the exciting realms of BDSM, toys can become more intense, scenes more extreme. Negotiate, communicate, remember your safewords and have fun experimenting!
Click on our headings above to check out our collections of toys!
---